So I'm not even going to try. Everyone knows (or should know) who
Shepard Fairey
is, or at least recognize his work. I for one pee my pants when I see something new of his. It's become massively mainstream, but who is not stoked on his success?

THE INSTITUTE OF CONTEMPORARY ART / BOSTON
FIRST MUSEUM SURVEY OF INFLUENTIAL STREET ARTIST SHEPARD FAIREY OPENS AT THE INSTITUTE OF CONTEMPORARY ART/BOSTON
SHEPARD FAIREY: SUPPLY & DEMAND
FEB. 6 - AUG. 16, 2009
Boston, MA – On the 20th anniversary of the Obey Giant campaign, the Institute of Contemporary Art/Boston opens the first museum survey of Shepard Fairey, the influential street artist who created the now iconic Obama poster. Stickers and posters of the artist's work have appeared on street signs and buildings around the world as part of a guerrilla art campaign of global scale. Featuring over 80 works, Shepard Fairey: Supply & Demand traces the artist's career over 20 years, from the Obey Giant stencil to screen prints of political revolutionaries and rock stars to recent mixed-media works and a new mural commissioned for the ICA show. In complement to the exhibition, Fairey will be creating public art works at sites around Boston. On view at the ICA from Feb. 6 to Aug. 16, 2009, Shepard Fairey: Supply & Demand is accompanied by an expanded, limited-edition box set of Supply & Demand, the retrospective publication of the artist's work, in addition to exclusive limited-edition prints only available at the ICA Store.
Shepard Fairey: Supply and Demand features work in a wide variety of media – screen prints, stencils, stickers, rubylith illustrations, collages, and works on wood, metal and canvas. These works reflect the diversity of Fairey's aesthetic, displaying a variety of influences and references such as Soviet propaganda, psychedelic rock posters, images of Americana, and the layering and weathering of street art. While his visually seductive imagery draws in his audience, Fairey uses his work as a platform to make statements on social issues important to him. The artist explains his driving motivation: "The real message behind most of my work is 'question everything."
Initiated by former ICA assistant curator Emily Moore Brouillet and developed by guest curator Pedro H. Alonzo, the retrospective exhibition examines prevailing themes in Fairey's work including Anti-War/Peace, Leaders of Change, Hierarchies of Power, Music, Excesses of Capitalism, and Activism.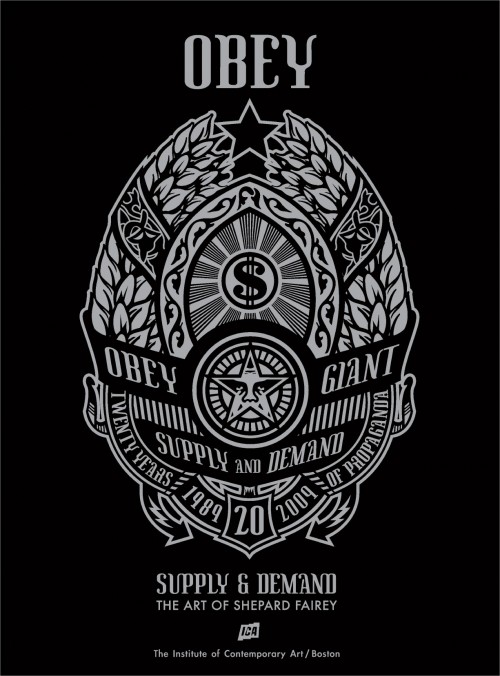 Exhibition Related Programs
Artist Talk: Shepard Fairey
Thursday, Feb. 5, 2009, 6:30 pm
The subject of a new ICA survey exhibition, Shepard Fairey shares insights into his work which shifts easily between the realms of fine, commercial, and even political art. Tickets: $20 general admission; $14 members, students (with valid ID) and seniors. This program is made possible through the generosity of Vivien and Alan Hassenfeld.
OBEY Experiment
Friday, Feb. 6, 2009, 9 pm - midnight
On the opening night of his first museum survey, artist Shepard Fairey DJs at the ICA's wildly popular Experiment party. Tickets: $25 general admission; $20 members and students with valid ID. 21 +
Lunchtime Gallery Talk
Shepard Fairey: Supply & Demand
Thursday, Feb. 12, 2009, noon
Exhibition curator Pedro Alonzo shares his perspective on working with Shepard Fairey in a program tailor-made for the lunch hour. Free with museum admission. Space is limited. Free tickets are available first-come, first-served one hour before the program. Ticket holders receive a 10% discount at the Water Café. May not be combined with any other offer.
ICA/AIGA Design Series: Design as Social Agent
Saturday, April 4, 10 a.m. - 5 p.m.
Bringing together speakers from the fields of design, street art, music, and politics, this day-long event frames Shepard Fairey's work within the context of grassroots civic action, punk rock, and 80s graffiti and skate culture. Featuring Steve Heller, Elliot Earls, Nicholas Blechman, Luba Lukova, Cliff Stolze, Caleb Neelon, PIXNIT, and Mirko Ilic. Ticketing information TBD.
Bike Tour: Shepard Fairey Off Site
Sunday, May 17, 10 am
Sunday, June 28, 10 am
Exhibition curator Pedro Alonzo leads a bike tour of Fairey's public work in Boston and Cambridge. Stopping at six locations along the way, Alonzo will talk about the context, content, and culture of the artist's work and the relationships between graffiti, public art, graphic design, and advertising. The tour will cover approximately 10 miles. Tickets: $20 general admission; $15 ICA members, students, and seniors
FOR MORE INFORMATION VISIT
WWW.ICABOSTON.ORG
The Institute of Contemporary Art
100 Northern Avenue
Boston, MA 02210
www.icaboston.org

WWW.OBEYGIANT.COM